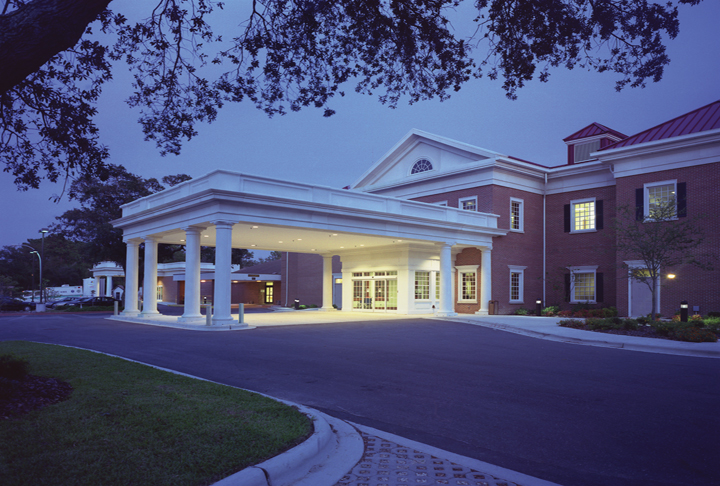 From his office window in North Carolina, Coy Overton can see the gorgeous, frothy expanse of the Atlantic Ocean. For most office dwellers such a view would be a major perk, the kind that makes colleagues and visitors envious.
But as plant operations director for Dosher Memorial Hospital, Overton sees more than pleasant seascapes when he observes the water. When he stares out his window he is confronted with the creator if his major enemy – moist, salty air.
The saline atmosphere that surrounds the 100-bed community hospital located in Southport near Cape Fear wreaks havoc on such things as galvanized metal cooling towers. Towers that are essential to the operation of the facility's HVAC system.
In years past, the corrosive nature of salty air decimated the traditional metal towers, causing leakage, disruption of service and putting unusual demands on maintenance staff. All of which was financially hurtful and, for a health care facility like Dosher, potentially deadly.
The solution was to replace traditional metal towers with a non-corrosive Polyethylene product. When the first two 150-ton towers were installed in the late 1980s, Overton was a hospital employee but not the plant director. He admits he was very skeptical of replacing metal with plastic.
"I cast a jaundiced eye on them. I was not convinced plastic cooling towers were the answer. But very shortly I saw their value," he said. "The saline atmosphere eats these galvanized things alive. I think anybody who lives along any of these coasts should have these things."
Over time, Overton had become plant operations director and knew what to do when Dosher began building a skilled nursing center, which would add more beds: he requested the installation of a third 150-ton plastic cooling tower. Stainless steel or fiberglass towers were also an option but the prohibitive cost made them unacceptable.
And when planning for an expansion of the hospital that began in 2003, everyone involved knew that the HVAC system would need to be expanded. Again, it was Overton who insisted on the use of engineered plastic towers.
"During the planning phases, I told them to specify nothing but Delta Cooling Towers. I know it works. Stick with it," said Overton, adding, "It would be expensive to try to maintain metal towers You might get nine years life out of the metal towers. But the Deltas, some of them are now pushing twenty years or so."
For Overton, who supervises a staff of six, patient care during emergency shutdowns of the HVAC system is the primary concern, but it is not the only one. Dosher Memorial Hospital's new addition houses an expanded emergency medical department and ancillary services, such as diagnostic imaging. To run properly, technology requires a controlled, comfortable environment every bit as much as people.
"The equipment gives it up at certain temperatures. I think the CAT scans and MRIs start panicking at about eighty degrees. They'll go down as the temperature rises," he said.
The financial savings enjoyed by Dosher through the years has been considerable. But what price do you put on peace of mind? Since running a hospital leaves very little room for error, early in his tenure Overton convinced hospital administrators to fund the installation of a redundant cooling tower. Should one tower malfunction, the extra tower is ready to go, so that there should be no disruptions of service. Overton said he keeps all towers functioning properly by rotating them each month, always leaving one as a standby.
"You're dead in the water if you lose your system. We just can't have that," said Overton, adding, by avoiding emergency repairs his staff has been spared unnecessary overtime and scheduling nightmares.
A coastal location is not the only reason to use non-corroding tower technology. Although the proximity of the Atlantic Ocean played into Dosher Memorial Hospital's decision to use Delta, the real issue is pH levels. High or low (alkaline or acidic), a pH imbalance can trigger a destructive trend that causes metal-clad cooling towers to fail early or require extensive service. For example, a pH level lower than 4 can destroy the metal protective lining of a tower within months. And pH levels are affected by various harsh environmental conditions, such as sunlight and pollution, and chemical treatments.
Delta cooling towers are engineered with rugged plastics such as high-density polyethylene (HDPE) so that they remain impervious to harsh chemicals, bitter environments, and pH deviations. As a result they have replaced the need for metal towers in much the same way that plastics have rewritten the standards in the plumbing industry. Also, the plastic towers are easier to install because they weigh 40 percent less than their metal counterparts, yet they are 5-10 times thicker.
Overton says that some maintenance of the Delta cooling towers has been necessary over the years. "We've had to do some rebuilding on them, but you would have had to do that anyway," he said. "And emergency repairs on the metal towers would have affected my manpower. We're going to avoid all that with these engineered plastic towers."
And while he deserves to take some credit for insisting that Dosher Memorial Hospital stay with Delta and its non-corrosive cooling tower technology, instead Overton counts his blessings. And whenever possible he pays his respects to his predecessor – the guy who made the call nearly twenty years ago.
"He's made my life so much easier. I'm blessed," said Overton.