Cutaway View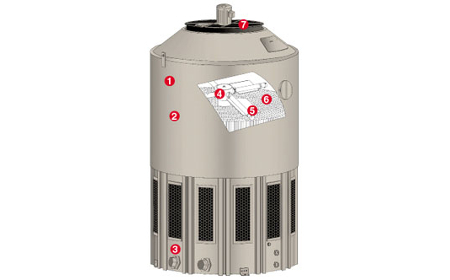 Get a Closer Look at your Delta Water Cooling Tower
1 Corrosion-Proof Shell: HDPE Plastic Construction cannot corrode and is backed by 20 Year Warranty
2 Lightweight And Heavy Duty: Plastic is lighter than conventional cooling towers and the average wall thickness is 5-10 times sheet metal towers.
3 Leak Proof Sump: Molded as a Unitary (One-Piece) Structure that has no joints to leak or require recaulking and sealing
4 Water Distribution System: Self-propelled multiple PVC rotating arm system evenly distributes the water, fixed nozzle distribution system also available
5 Drift Eliminator: Polyethylene drift eliminators prevent water droplets from leaving the tower
6 Fill Material: High-efficiency spiral wound PVC cellular design for maximum cooling
7 Direct Drive Air Moving System: Totally enclosed PVC-rated cooling tower motor that powers a fiber-reinforced polypropylene axial propeller fan.
Water cooling towers use simple laws of physics to transfer heat energy from one location to another. In an induced draft cooling tower, the air is drawn into the unit by the fan on the top. Then, it is drawn quickly upwards with a large fan that rests at the top of the tower. At the same time, water is distributed downward and cooled by the air; then, that cooled water is circulated back to the industrial process or HVAC chiller. A drift eliminator captures any large droplets and keeps them within the cooling tower.
Get Up-to-Speed on Water Cooler Towers
Overview of Water Cooling Towers
Water cooling towers are used to cool machinery whether it is the condenser loop in an HVAC chiller or industrial process machinery that generates heat and needs to be cooled to remain operating. Many applications on the HVAC side include large office buildings, hospitals, and schools while on the industrial side applications include numerous manufacturing process industries, including chemicals, metals, plastics, pharmaceutical, oil, and nuclear.
The towers work by drawing air into the unit and cooling down the water by evaporating a portion of the water. The cooled water prevents your machinery from overheating and allows it to perform optimally. It also makes the atmosphere of your building more pleasant for everyone in an HVAC application.
Delta's water cooling towers come in a range of sizes, from relatively small rooftop units to towers that cool a large hospital. The Delta PARAGON® Induced Draft Tower ranges in size from 84" x 146" with a capacity of 55 cooling tons to a size of 114" x 210" with a capacity of 250 tower tons.
Practical Applications of a Cooling Tower
In some industries, such as the nuclear power industry, cooling towers are essential to maintaining the nuclear reactor from overheating. This prevents your machines from overheating, shutting down, needing costly repairs, and stopping the production of an expensive product. A cooling tower is a vital investment in the safety and extended lifecycle of your industrial machinery.
Why Choose Delta's PARAGON® Induced Draft Towers?
We have been one of the leading cooling tower manufacturers in the USA for nearly 50 years. Our innovative water-cooling designs have stood the test of time. Delta is the only company in the industry to manufacture a one-piece shelf, with no seams, rivets, or other weak points that might need to be repaired. This allows our water cooling towers to be more durable and able to withstand the harshest elements.
While we continue to improve our products, we continue to use the same quality and attention to detail we've always had. We specialize in producing highly efficient and environmentally friendly cooling towers. Our induced draft cooling tower comes with a 20-year warranty that includes shell replacements and more. If you are ready to work with the technology-leading cooling tower suppliers, give us a call. We are always happy to help you find the best product for your industrial or commercial property.
Top-Notch Service from Cooling Tower Experts
In addition to being the technology-leading manufacturer of quality water cooling towers, Delta has an experienced staff to assist you in your application. In fact, we pride ourselves on providing the best customer service. Delta's service is unrivaled compared to other cooling tower suppliers. Our trained team of experts has the knowledge to help you identify the right cooling tower solutions for your business.