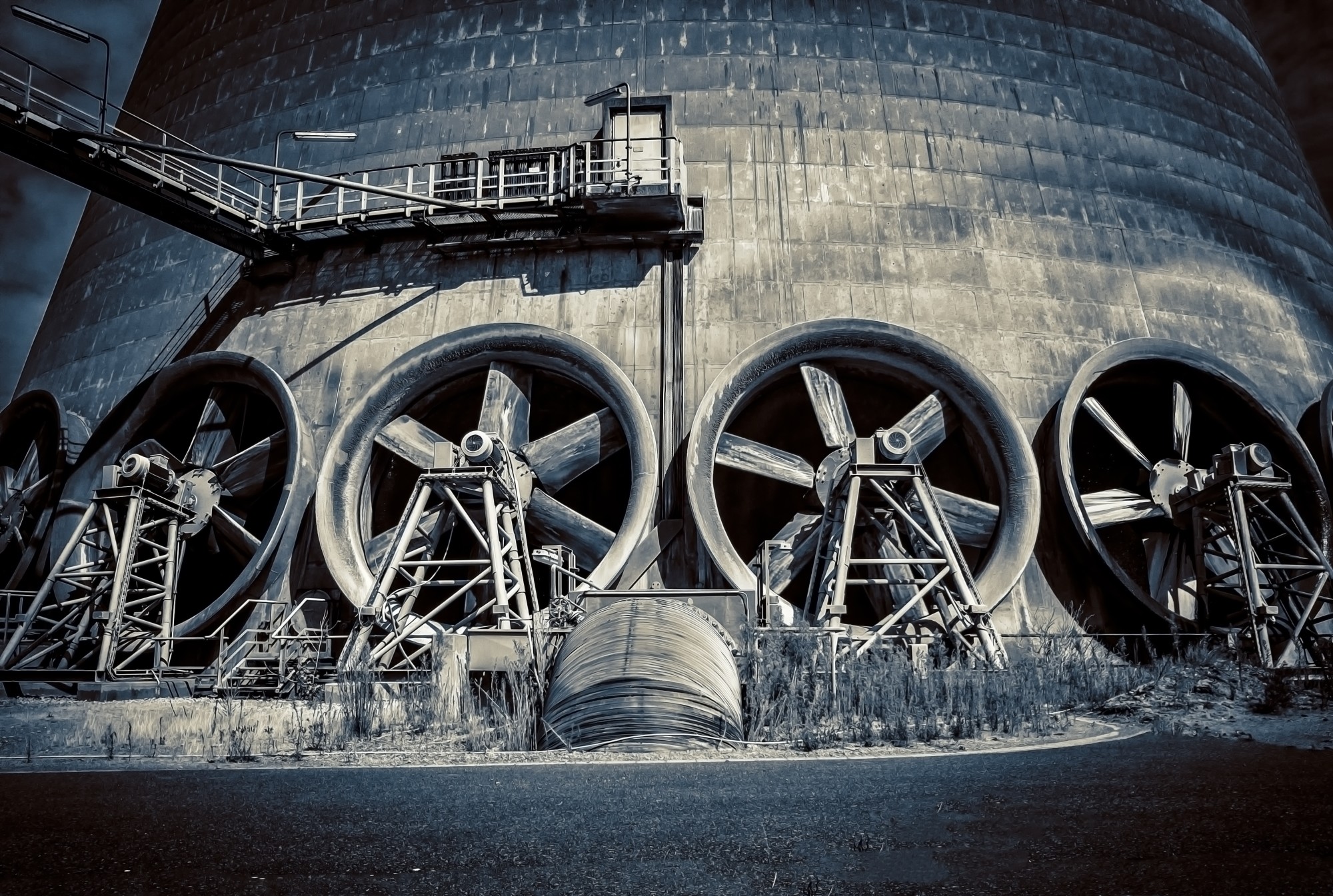 Imagine sitting in an important work meeting, but you can't concentrate because there's an irritating rushing noise erupting from the heating, ventilation, and air conditioning (HVAC) system.
Or perhaps you're enjoying the beautiful sounds of an acoustic concert, and the concert hall starts getting warmer and warmer as the cooling tower stopped working properly causing the concert to be cut short.
Typical causes of theses issues often come from the complicated air moving systems in some cooling towers. Many businesses across the United States use water to cool their buildings, so any malfunctions like these are crucial to prevent.
Thanks to advanced technology, a cooling tower doesn't have to cause these problems. But how do you choose a cooling tower that is efficient and suitable for your business?
After all, not all towers are right for all applications. Cooling towers aren't created equally, and there are many different types available.
Knowing and understanding the various types, and their benefits and disadvantages are crucial when choosing a cooling tower. That's where we come in to help.
Here's our essential guide to choosing the best type of cooling tower for your business.
Choose the Right Size
When choosing a HVAC or industrial cooling tower, the appropriate size must be selected to maximize its benefits. Cooling towers are a considerably affordable and effective way of reducing heat from various industrial processes, so size must be considered. Cooling towers come in many sizes and are used for nuclear and thermal power plants, petrochemical plants, food processing plants, petroleum refineries, and HVAC systems.
As cooling towers are used in more and more applications worldwide because of their most cost effective solution to remove heat, the concern of size becomes more important. How big should a cooling tower be to support an application as efficiently as possible?
There are plenty of applications and processes where choosing an undersized cooling tower would be detrimental to the business.
If an undersized cooling tower isn't providing enough cold water to cool the condenser loop of an office's HVAC system, then the chiller could shut down and stop working. This is likely to lead to pricey repairs and plenty of annoyed and angry staff members or tenants.
An insufficient cooling tower capacity can lead to severe damage to expensive processing equipment. Of course, a shut down on this scale can lead to significant losses in productivity. With most applications, determining and understanding the minimum size a cooling tower should be is crucial.
For most wet cooling towers, the ideal size can be understood by a combination of four metrics. These are heat load, approach, range, and wet bulb temperature. Most manufacturers have sizing programs to determine the minimum size cooling tower needed.
To understand how these metrics affect the size of a cooling tower, it's essential to learn some context.
The wet bulb temperature (WBT) of the air flowing into the cooling tower in is a separate variable that determines the most suitable size of a cooling tower.
When selecting the size of a cooling tower, remember that the highest WBT should be used for sizing purposes. This ensures the cooling tower works sufficiently on the most humid day of the year.
Assess Efficiency
Ensuring cooling tower efficiency is essential when choosing one. In many towers, especially the wet metal-clad types, cooling efficiency is affected when aggressive chemical solutions are limited due to the risk of harm and damage to metal surfaces.
Plus, having to limit potent chemicals used to remove biological growth from water can produce fouling build-up inside the cooling tower. This affects cooling efficiency.
Water cooling towers made of high density polyethylene (HDPE) plastic are becoming increasingly popular. Towers made from HDPE can treat the water more aggressively with the necessary chemical treatments required. Business owners don't have to worry about any corrosion issues.
The corrosives found in saltwater, air, or the atmosphere of many industrial sites often damage metal-clad cooling towers. This makes them less efficient and susceptible to maintenance and unscheduled shutdowns. But HDPE cooling towers are resistant to corrosion.
As HDPE cooling towers are unaffected by such corrosives, they don't need much maintenance, and they offer a much longer life.
Delta cooling towers all offer a 20-year warranty, so you can rest assured that your cooling tower investment is worth the money.
Cooling tower efficiency is also determined by tower footprint. Some businesses select a tower with a smaller footprint to allow for more space for other items. However, that decision typically requires using more power to drive the tower fans to satisfy the cooling load.
Saving energy is essential for many brands, so a cooling tower with a bigger footprint that uses a lot less power may be the more efficient and worthwhile choice.
Consider Noise
As mentioned, the noise a cooling tower emits is essential to consider. Many older cooling towers are so loud that they sound like an airplane is passing overhead. As you can imagine, this isn't effective for productivity, especially in an office building.
Fortunately, many cooling towers are fitted with new technology to reduce noise significantly. Always consider the noise levels when selecting a cooling tower for your business.
Don't Forget the Design
The design of the cooling tower is essential to consider too, and this links in with efficiency. As mentioned, cooling towers made of HDPE are particularly useful.
Here at Delta Cooling Towers, we are a pioneer in this technology. It was originally used to correct corrosion issues resulting from industrial gases, routine chemical water treatments, and salt air affecting metal towers.
Cooling tower fan options that decrease maintenance issues are direct-driven. This feature means you don't have to concern yourself regarding gearbox or belt-driven systems failures. These maintenance items invariably result in costly downtime for an industrial process or lost HVAC cooling in a commercial business.
Direct-drive fans reduce operational issues and maintenance works. A VFD selection for controling the fan speed allows for continuous and consistent water temperatures and energy savings.
Some businesses choose to run at 50% power during a season of operation. This reduces energy usage and expenditure.
Consider the Origin of Manufacturer
Many businesses are interested to know where their cooling tower is produced. Will it be made in the manufacturer's premises? Or is it outsourced to foreign subcontractors?
In the latter situation, more assurance is often required regarding the quality of the cooling tower and how business owners are affected if replacement parts are needed in the future.
In many cases, cooling towers are shipped unassembled to businesses and then reassembled by local labor. If you decide to go for this option, don't expect the quality as you would from a cooling tower assembled in the manufacturers' plant by knowledgeable and skilled factory workers.
This process is used by suppliers that outsource the entire production of cooling towers. However, the cost savings made in shipping don't cover the expenses and issues that many clients experience after time with the towers assembled onsite by people who are unfamiliar with the model. Plus, local laborers are often working in more challenging conditions.
Are You Ready to Choose a Cooling Tower?
If you're considering investing in a cooling tower for your business, consider consulting with an experienced cooling tower engineer before completing a plan to purchase a cooling tower for a business.
Here at Delta Cooling Towers, we provide online help and assistance to help determine which type of cooling tower is right for your facility. Contact us today for our expert advice.