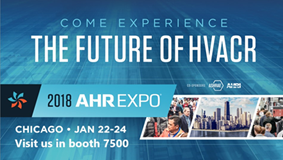 Come visit Delta Cooling Towers at AHR 2018 from January 22-24 – Chicago, Illinois, McCormick Place at Booth #7500. The International Air-Conditioning, Heating, Refrigerating Exposition (AHR Expo) has grown into the event of the year for the HVACR industry. Attendees include OEMs, Engineering & Design/Build Firms, Contracting Firms, Distributors and Rep Firms, as well as Public Utilities, Commercial, Industrial and Institutional Facility Operators, Educators and the Press. The Show provides a unique forum for the entire HVACR industry to come together and share new products, technologies, and ideas. This year we will be showcasing our Anti-Microbial Cooling Tower. Our Anti-Microbial Cooling Tower was recognized as a 2018 AHR Expo Innovation Awards Finalist.
Our new line of cooling towers are constructed of anti-microbial resin, which is fully compounded into the base cooling tower material. The anti-microbial resin contains additives to continuously disrupt and prevent uncontrolled growth of microorganisms and biofilm. Efficacy tests were performed by Special Pathogens Laboratory, The Legionella Experts®. The design of many cooling towers creates pockets where water may stagnate, another condition that can lead to microorganism development. The stagnant water areas are prime breeding grounds for Legionella to grow. To avoid such problems, our cooling tower designs feature a sloped basin and/or basin sweeper system.
We hope to see you there!