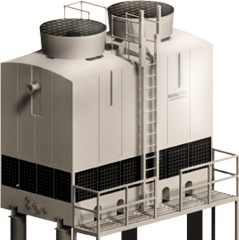 The traditional image of a cooling tower generally brings to mind the large, industrial cooling towers used in the oil and gas industries that sit on top of a refinery or a chemical plant. Petroleum refineries need large cooling tower systems, as they process about 300,000 barrels of crude oil per day on average, requiring an estimated 80,000 cubic meters of water per hour to keep the system cool. The largest cooling water tower in the world is in Jhalawar, Rajasthan, India at the Kalisindh Thermal Power Station and measures an incredible 663 feet tall.
However, advances in technology have allowed smaller cooling towers to be utilized in a wide range of industrial process applications and HVAC systems. Cooling systems were originally developed as a solution to the massive energy expenditures put out by industrial facilities, as well as a way to recycle 98% of the water used by the company. The efficiency and cost savings of these units has contributed to their popularity. For this reason, engineers like Carl Pendola of Penco Equipment have noticed that there are diverse uses for more compact cooling towers and systems.
Pendola noticed, after 35 years in the chemical, oil, and gas industries, that most large facilities have smaller satellite operations that would require smaller systems. He set about finding applications for this concept, and found one in his most recent accomplishment -- a compact mud tank designed by NRG Manufacturing for RandD, a downhole drilling tool company. The tank is designed to control the temperature of the mud when drilling, as drilling chemicals can be very abrasive and get very hot. The system was made up of a plate style heat exchanger in conjunction with a downsized 265 ton cooling tower.
Delta Cooling Towers pioneered the use of high-density polyethylene (HDPE) plastic in the construction of cooling systems and is the company that manufactured the tower. HDPE technology lasts much longer and is much more durable to corrosion and rust than the standard galvanized sheet metal models that are currently being used. Pendola believes that these models save energy and provide smaller industrial facilities the opportunity to use the cooling towers that fit their needs rather than fitting their needs to the current technology.