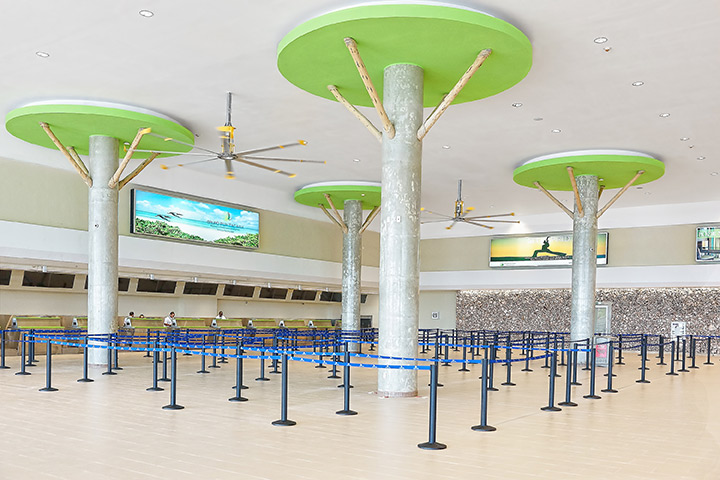 HVAC Insider reports that the Punta Cana International Airport, which serves the Dominican Republic's eastern provinces, is growing due to the rise in popularity of the area and a substantial increase in the amount of people vacationing in the Dominican Republic.
Every year, the airport traffic grows by 20%, which is the highest rate in the country. With more than 40 countries flying 53 different airlines, and a total of 6,500 visitors arriving every day, the airport and area are witnessing record popularity.
A large part of the airport expansion is the installation of a completely new and energy efficient cooling tower system. Cooling towers are designed to recycle more than 98% of wasted water. The island's average temperature is around 80 degrees, so having poor cooling tower systems could be a major problem with the increase in visitors.
"Our primary concern was that rust and corrosion problems due to the salt air would plague a conventional metal-clad cooling tower," Jorge Miranda, Business Development Manager at INICA, told HVAC Insider. "This would eventually interfere with running the air conditioning system and would also require expensive maintenance or replacement." Finding cooling systems that are designed using corrosion proof engineered plastic can ensure that the tower shell will never chip, peel, flake, or rust.
Because of the high year-round temperatures, and the constant running of the air conditioning systems, it's important to have the correct concentration cycle regarding the cooling towers. Ranging from three to seven, simply increasing cycles from three to six lowers cooling tower make-up water by about 20% and reduces blowdown by 50%. Doing this can improve water efficiency and cut costs as well.
Manufactured by Delta Cooling Towers, Miranda selected the high-density polyethylene TM Series -- which comes with a 20-year warranty -- for installation. "With the double-wall HDPE shell we are confident that this tower will be impervious to rust and corrosion problems," Miranda said. "I don't think there's any doubt about it, we'll be installing another TM Series modular cooling tower system." The Punta Cana airport has finished the expansion of their first terminal, and they are in the process of expanding its main terminal. The process will take around one year and the INICA will handle that project as well.
Interested in learning more about our rust and corrosion proof HDPE Cooling Tower systems? Get in touch with a Delta Cooling rep today.