What Are Fiberglass Cooling Towers?

Fiberglass cooling towers are constructs made with the purpose of cooling down a building by enabling a heat transfer that is far more powerful than that of air-cooled air conditioning. Now, due to the versatility and cost-effectiveness of the material, fiberglass cooling towers have been an industry standard for a while now.
Originally, a fiberglass cooling tower was specially designed to replace metal cooling towers. Truth be told, a lot of metal-based cooling towers are still in use. For instance, tubular steel, steel lattice, and even reinforced concrete (as an old-school variant) can still be seen in the industry.
One reason why an average fiberglass cooling tower manufacturer chooses fiberglass over metal is longevity for the owner. Namely, the strength of fiberglass is fairly similar to a material that is simpler to produce and much lighter.
Today, however, even superior composite materials like engineered plastic are in use, perhaps foreshadowing a new era in the cooling tower industry.
Plastic vs. Fiberglass Cooling Towers
While fiberglass is superior to its predecessor – metal cooling towers, the material itself has some drawbacks which caused the industry to move towards its alternative in the form of engineered plastic. For instance:
With a high level of water saturation, a breakdown between fiberglass and resin is possible.
Repetitive vibrations and high wind velocity can cause stress (and even cracks).
Exposure to elements and the effects of rusting are also far more severe on fiberglass than they are on engineered plastic.
Engineered plastic, on the other hand, is developed to overcome these innate flaws of fiberglass. Even a seasoned fiberglass cooling tower manufacturer would have to admit that engineered plastic is:
Impervious to water.
Designed to have a stronger wall.
Resistant to both corrosion and environmental factors.
While, at the time, superior to metal cooling towers, it is clear why fiberglass is now making way to engineered plastic.
More Reasons Why Plastic, High-Desnsity Polyethylene is the Better Option
HDPE (high-density polyethylene) cooling towers are one of the better choices for materials of construction. This is an engineered plastic cooling tower that is highly resistant to corrosion and has a life expectancy of 20+ years. It is also a more efficient and economic choice, as HDPE reduces costs, maintenance, downtime, and water treatment chemicals.
Another advantage is the molding process allows for seamless construction so there are no joints that need welding or gasketing to prevent leaks.
HDPE cooling towers are also easier to install, and being of a lighter weight, are much easier to install on rooftops for smaller applications, such as hospitals and schools.
Overall, when it comes to materials, HDPE is the better, more economical choice for cooling tower construction, and towers made with HDPE are highly efficient and environmentally friendly cooling towers.
As you can see, when it comes to cooling towers, the materials of construction matter very much. First, as a company, you don't want a cooling tower that has a life expectancy of 15 years or less. Secondly, cooling towers are notoriously prone to Legionella bacteria, which is the cause of Legionnaires' disease, atypical pneumonia that is very serious and requires emergency care. However, with the right materials and upkeep, you have a far lesser chance of your towers growing Legionella.
Fiberglass Cooling Tower Alternatives
Previously, we've discussed how fiberglass cooling towers may have their flaws and be inferior to engineered plastic. Now, here are two great alternatives to this traditional cooling tower model.
TM Series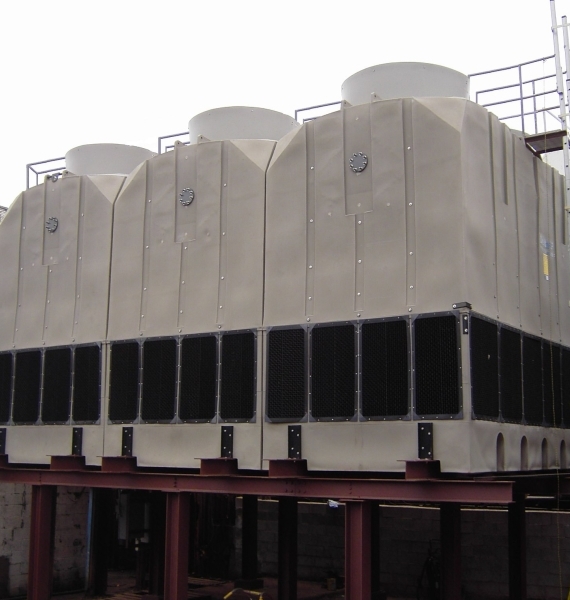 Switching to TM Series is one of the best ways to lower your cooling tower downtime and replacement needs. This high-quality tower is one of the best, the most environmentally-friendly towers in the business.
Fiberglass cooling tower manufacturer competitors that specialize in engineered plastic towers also offer a wide variety of products. Basic specs depend on the number of cells that the tower has and TM Series variants range from 1 to 6 cells. Their dimensions, capacity, fan motor, and sump capacity also differ depending on the cell number.
TM Series potentially comes with a long list of standard features. These are:
Shell
Seamless Sump
Sloped Sump Design (clean)
Water Distribution System
Wet Decking
Fan Assembly with fiberglass reinforced polypropylene
Direct-drive Motor
Fitting Connection Options
Stainless SteelHardware
Aside from this, it's also worth mentioning that the shell comes with a 20-year warranty.
Click here to learn more about our TM Series Cooling Towers.
Paragon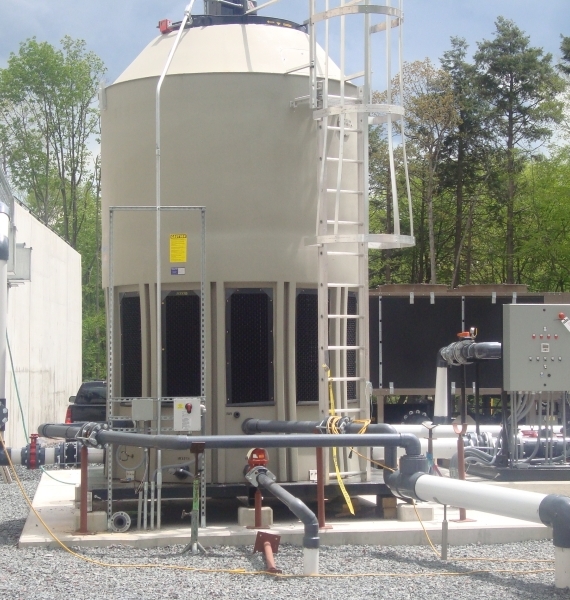 Paragon induced draft towers are definitely one of the most popular alternatives to fiberglass cooling towers on the market. Due to its engineered plastic (HDPE) design, the tower is both leak, corrosion, and weather-proof. Maintenance requirements for this particular product are also quite minimal.
Since the manufacturer is based in the USA, there's no risk of getting towers made out of low-quality materials (manufactured overseas). Paragon towers are also available in module capacities ranging from 55 to 250 cooling tons, these towers are both versatile and long-lasting.
Approximate Weights
Dimensions
Capacity (Tons)
Fan Motor (HP)
Sump Capacity (Gallons)
L x W x Ht.
1 Cell
16.5'x8.5'x15.5'
250-425
10-30
480
2 Cell
16.5'x17.0'x15.5'
460-820
20-60
960
3 Cell
16.5'x25.5'x16.5'
700-1200
30-90
1400
4 Cell
16.5'x34'x'16.5'
910-1580
40-120
1920
5 Cell
16.5'x42.5'x16.5'
1120-2010
50-120
2400
6 Cell
16.5'x51'x16.5'
1340-2400
60-120
2880
Like the previously-discussed TM Series, Paragon cooling towers come with a list of standard features like:
Seamless Shell
Sump
Water Distribution System
Wet Decking
Fan Assembly with fiberglass reinforced polypropylene
Direct-drive Motor
Fitting Connection Location Options
Stainless Steel Hardware
Their innovative engineered plastic design ensures that they can last for decades before the need for replacement. This is also backed by the manufacturer through a 20-year shell warranty.
Click here to learn more about our Paragon Cooling Towers.
Wrap Up
Both engineered plastic and fiberglass cooling towers have their features and benefits. However, when comparing physical properties, engineered plastic seems like a more sensible choice.
Check our inventory of cooling towers to learn more!